Cleaning Tips For Halloween at Home in Denver During Covid-19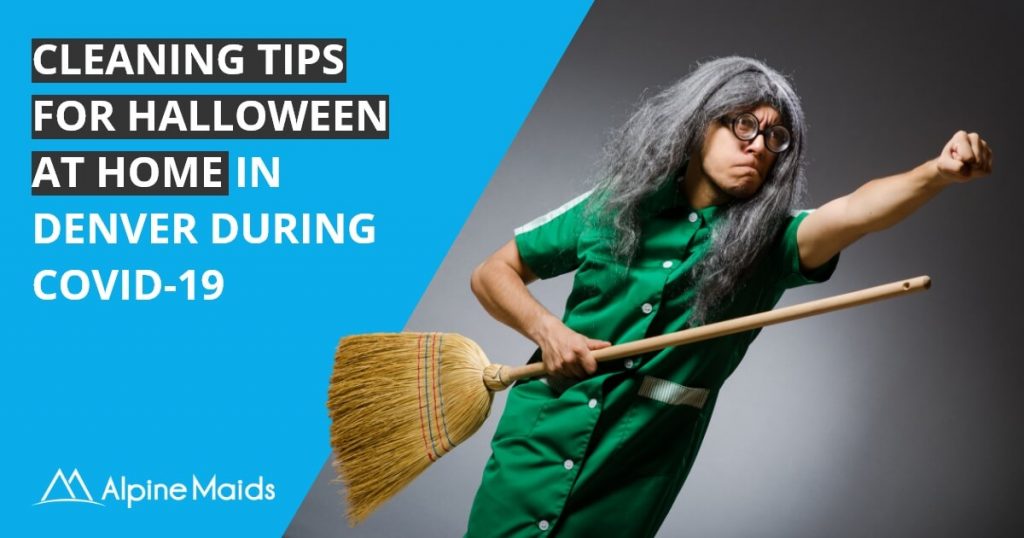 Halloween 2020 might turn out to be quite different and scarier because of the pandemic, but it can still be enjoyable. Experts have made several concerns with uncertainty about what we can and cannot do to remain safe amid the pandemic.
With the right precautions in place, you can still adapt to the new normal and even have a safe and fun Halloween. Experts point out that in Denver, we are safer at home than going outside in crowds. But worry not! There are still ways to enjoy Halloween this year at home; just with fewer people, more face masks, and trick or treating from distance or just among family members.
Nonetheless, there's going to be a lot of cleaning to do, like any other Halloween. And what if you woke up to eggs on your siding or smooshed candy all over the home? Halloween cleaning doesn't have to be a spooky experience. Regardless of how you celebrate any Halloween, here are post-Halloween cleaning tipis to make the mess disappear.
How to Gently Clean Lipstick
Are you a lipstick enthusiast? While it's lovely in completing a costume look, it can be messy too! A lot is coming and going during Halloween celebrations, and lipstick can drop on your cloth or couch.
What to do? Use a dull object, like a spoon to scrape off excess lipstick. Use a dry solvent then blot with a white solvent and blot with white cotton wool. Continue rinsing with water and blotting until dry.
Be Patient with Chocolate Cleanup
Both kids and adults love chocolate, so you know you're going to have to deal with chocolate stains somehow. Removing chocolate stained on the sofa can be tricky. Use a dull knife to scrape it off the fabric. hen apply a tablespoon of liquid detergent to wash the area.
As your cleaning cloth becomes dirty, use another fabric. Finally, use a dry-cleaning solvent on a hidden area of the sofa. If it doesn't harm the sofa, apply about two to three drops on the stain and blot carefully.
Topple Toilet Paper in the Trees
Toilet paper dissolves in water. After it sticks around for some days, it usually disintegrates. Use a power nozzle on the hose set to a tightly directed spray. Blast away at streamers in the highest branches, and work your way down.
If the bunting isn't too far up, bring it down with a leaf blower, but carefully so that you rearrange it in the treetops.
Break up Eggs Gently
After Halloween, it's obvious that smashed eggs are stuck in your home's siding. To remove the eggs, wash the wet area below the dried egg, wait for a few minutes then gently hose it off.
Apply a mixture of a strong alkaline with warm water if the egg is stubborn. Allow it to settle for a maximum of ten minutes then scrub it off with a soft brush.
Power Tip: Never use hot water to clean the egg mess. High temperatures congeal the egg's proteins and make it more sticker.
Blot out Pumpkin Stains
Oh my! The pumpkin stains, the pumpkin recipes; pumpkin everything! To remove pumpkin stains on the carpet, use a dull object like a spoon. Pick up any excess like seeds. Blot the area using white cotton dipped in a mixture of liquid detergent with warm water.
If there are areas that are still stained, use an enzyme-based pre-treatment for carpets.
Power Tip: Make it a must for all pumpkin carving fun to take place outside the house.
Final Thoughts
Safe Halloween doesn't come like a nightmare. From virtual costume parties to candy hunts. Planning will help you keep an eye on the spread of COVID. If you follow the above cleaning tips, you will enjoy your holiday and make Halloween 2020 one to remember. Or better yet, just call a professional maid service like Alpine Maids and help with cleaning and disinfecting around the house!