How to Clean the Microwave – 6 Cleaning Tricks
The time has come to clean your microwave, but you don't really know where and how to start? If you're one of those people who postpone cleaning duties until the very last moment, you might be dealing with one very dirty microwave, but don't despair. Stay tuned as we reveal the 6 most effective ways of cleaning your microwave!
How To Clean a Microwave?
Cleaning electrical appliances in your home should always start with unplugging them, to avoid any serious damage to you or your home. Cleaning your microwave doesn't have to be a big deal and takes a lot of your time if you know how to do it, and what products to use. Here are some of the best microwave cleaning tricks you can use:
Baking soda is one of the best all-purpose cleaners. The good thing is that you probably always have it at home and it's cheap, so why not try to clean the microwave with it? Use baking soda and warm water to make a paste and clean the inside of your microwave. For stubborn stains, let the paste sit for five minutes and then try cleaning it. The results will amaze you.
A Water and White Vinegar Solution
This is a great option for removing grease and dirt from the inside walls of your microwave. For cleaning the microwave, fill a microwave-safe glass or bowl with water and white vinegar and put it inside. Microwave for at least five minutes and carefully remove it afterward. Clean the inside with a damp cloth and remove all the residue.
You can combine this method with the previous one involving baking soda for better and more effective results.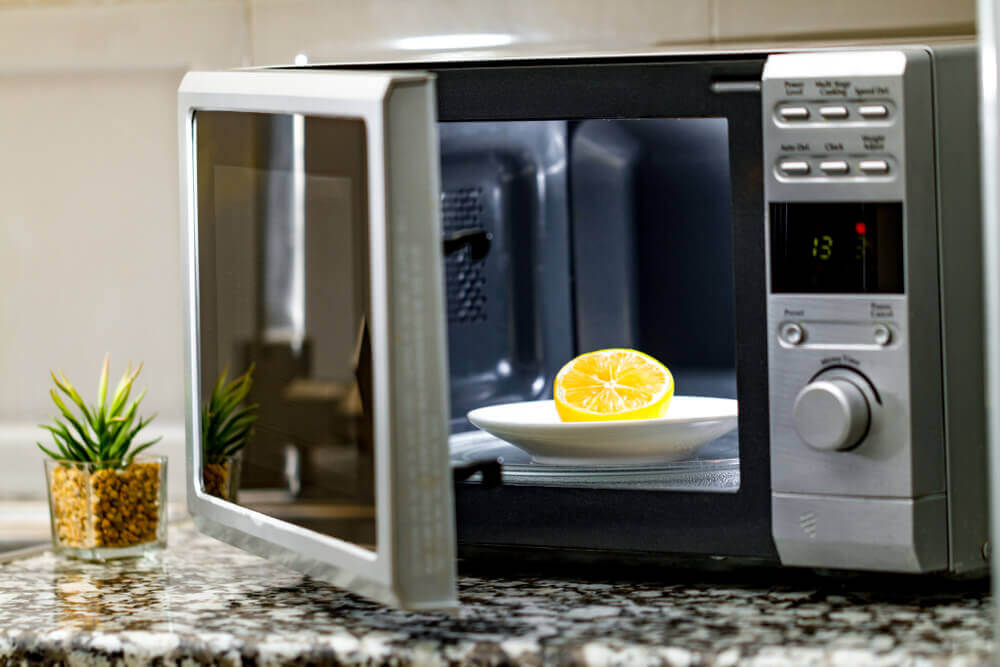 You can't go wrong with lemon in this case. Take one lemon, cut it in half, and put it cut-side down on the microwave plate. Add some water to it and microwave until it's hot and steamy. The Lemon will act as a natural and organic degreaser and cleaner, leaving your microwave clean and nice. Wipe the microwave with wet clothes once you take the lemons out and you've got yourself a nice and clean microwave.
You can try to clean your microwave with dish soap as well. Put a bowl with water and some dish soap inside it and turn it on for a few minutes – until it becomes steamy. Then remove the bowl and use a sponge to remove all the debris and leftover food from the inside of your microwave. If you have a problem with unpleasant smells, add some baking soda to it because it's great for getting rid of bad smells.
If you don't know how to clean microwave stains easily and quickly, you can try with wet paper towels. This is the fastest and quickest way to effectively clean your microwave. Put a handful of wet paper towels inside and run the microwave on high for at least five minutes. Once they cool down, use them to remove all the debris and stains from your microwave.
Professional Cleaning Service
If all these methods seem too much for you and aren't your cup of tea, you can decide to hire a Denver professional cleaning service such as Alpine Maids to do your cleaning. Besides being able to clean your microwave, we offer more serious services such as residential cleaning, deep cleaning, and housekeeping. All our products are environmentally safe and eco-friendly, so you won't have to worry about your health. We'll make sure to clean your home quickly and thoroughly. Contact us today for more information and let us do the dirty work!
Try some of the methods outlined here and make your microwave clean and shiny again.