How to Include the Whole Family in Home Cleaning Chores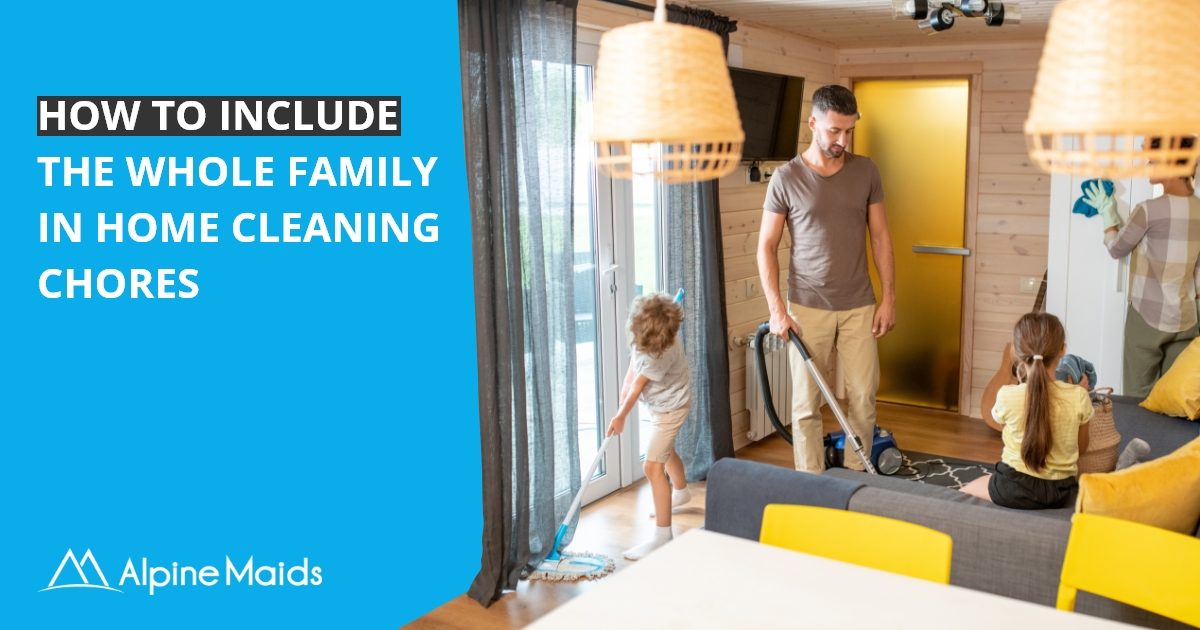 Your home is your family's private area. You spend most of your time together in the dwelling, having meals, playing in the house or the backyard, watching TV, among other activities. These activities are bound to leave your home looking like a mess at the end of the day.
Regular cleaning is required to preserve hygiene around the home. Many people choose to hire professional cleaners to help with home cleaning tasks, while others resort to doing it themselves.
If you have kids, one of the best ways to bond and teach your children life skills, such as cleanliness, communication, teamwork, and responsibility, is to get them involved in cleaning chores. Doing this will divide the tasks among your household members, relieving the ones responsible for the cleaning.
Wondering how you could split these tasks? Keep reading this blog post.
Fun and Efficient Ways to Distribute Cleaning Chores
The key to getting cleaning chores done is equally distributing tasks among the family and clear communication.
Split tasks according to your children's abilities, assigning chores that align with their strong points, and the tasks that they will find fun to engage in. In doing so, be sure to make safety a priority. This will avert common safety dangers associated with tasking kids with chores that are well above their level.
If you have teens, you know that the perception of favoritism is a real issue. Fair distribution of work is the cure for this. When you distribute chores reasonably among them, you show impartiality and promote cohesiveness.
Assigning chores to minors is demanding. Dividing tasks between adults is challenging as well as adding their work schedules too. As the ultimate bearers of responsibility in your home, you and your spouse need to work in cohesion and in a complementary manner to ensure chores around the home do not stall.
In the end, these household chores for the whole family will be done effectively and efficiently. You always need to communicate every relevant detail to your household beforehand to avoid glitches later on that need to be reassigned at an inopportune time.
One of the best ways to organize cleaning tasks is to sort them into daily, weekly, and monthly schedules. This way, your household knows what tasks need to be sorted by whom and when.
Fun Family Cleaning Schedule
Do you prefer to create a roster on paper and hang it in the kitchen or make it available in digital format? Either would do, but a digital format cleaning schedule is better as you and your household can access the roster even when you're away from home.
In addition to remote access, a digital cleaning roster allows you to easily set up reminders, which is essential for tasks with less frequent schedules.
To achieve efficiency, break up tasks into daily, weekly, and monthly schedules, depending on their demand. Assorting them into these categories make for easier and more efficient tackling of house cleaning chores.
Daily Tasks
Tidying the house
Washing dishes
Cleaning tables and kitchen countertops
Cleaning kitchen stovetop, microwave, and refrigerator
Sweeping or vacuuming the house
Emptying the trash can
Cleaning the bathrooms
Weekly Tasks
Washing bed linens
Dusting and wiping light fixtures
Mopping floors
Scrubbing bathrooms
Window cleaning
Monthly/Seasonal Tasks
Dusting blinds
Changing fabrics (curtains, cushions, carpets)
Organizing cupboards and closets
Conclusion
Having an inclusive set of chores is worthwhile for your household. However, if you feel inexperienced or are constrained by time, we can give you a helping hand. Our trained professionals will get your house looking tidy in no time!
Contact us today by visiting our website on www.alpinemaids.com or calling us on + 1 (720) 507-6208.