The Top 5 Best Home Improvement YouTube Channels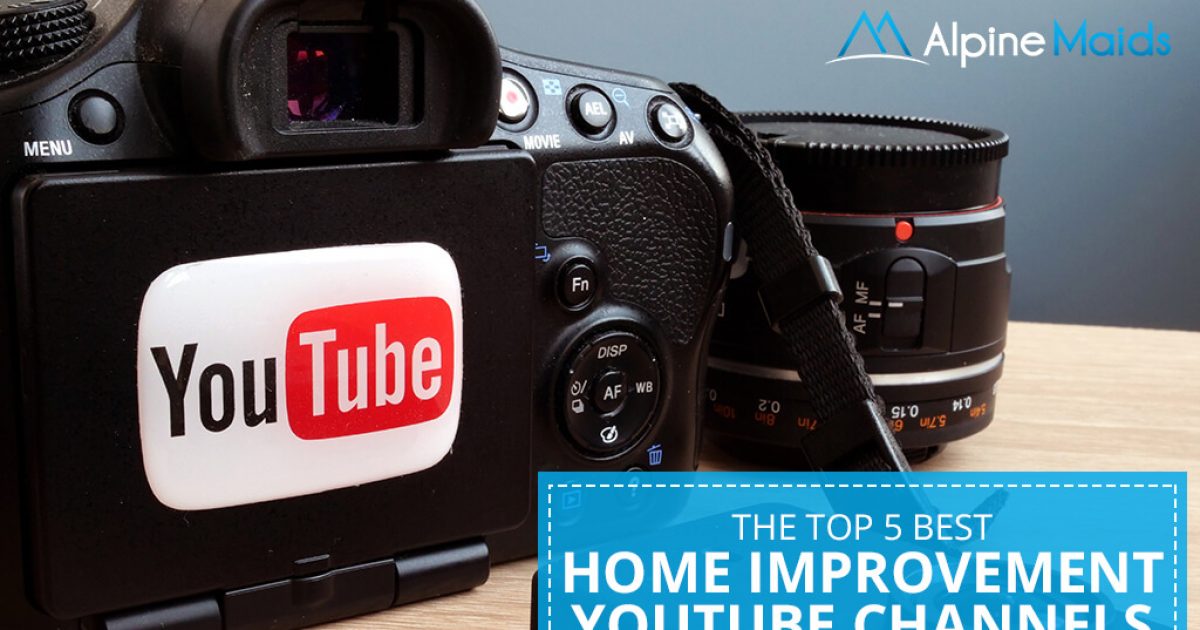 Tackling different DIY projects around the house is exciting for several reasons since it provides plenty of opportunities for learning and can help you save money if you keep getting better at it. By doing larger projects each time, you'll soon find yourself becoming the de facto handyman of the house, and will depend less and less on outside help. However, if you haven't had much opportunity to practice so far, where can you get someone to teach you?
Enter the vast network of YouTube's home improvement channels, which can show you how to do pretty much everything around the house (even things that we'd recommend not doing without a professional). Unlike the scripted and sometimes overproduced shows on TV or streaming services, YouTube channels tend to offer a more approachable and realistic view of what home renovation can be. We've compiled the best 5 of such channels out there, so let's watch!
Home Repair Tutor
Jeff Patterson and Steve White have been making home repair videos for years, and their experience shines through in every single one of them. Covering topics from ideas for home improvement to step-by-step explanations of home repair, their ideas are affordable and their instructions are pretty easy to follow. Also, despite having over a hundred videos on their channel, you will probably find it easy to sort through them when looking for a particular topic. They're thankfully named in a very basic manner; if a video's name is "Replace Old Bathroom Water Supply", you'll get exactly that out of it.
Apartment Therapy
Videos on budgeting, DIY decoration, decluttering, move-in tips, and more are the things that make Apartment Therapy the perfect channel to create a space that is, as they say, "happy, healthy, and uniquely yours". While this channel is a little more oriented towards the "lifestyle" genre of content, their videos on renter-friendly decorating hacks, how to complement dominant colors around your house, and how to make the best out of small spaces–just to name a few–are a must-see. They've even made a couple of videos with Marie Kondo, so you know they're serious about bringing out a house's full potential. Other interesting series in their channel include Plant Doctor and House Tours, the latter being a treasure trove of cool decoration and organization ideas (and even how to clean it better!)
DIY Network
Another great channel where you will find hundreds of How-to videos and DIY projects, the DIY Network can teach you how to make all sorts of furniture from scratch, restore the exterior of your house, and even what to know before replacing different parts of it. The channel is obviously a part of www.diynetwork.com, but you'll want to stay on YouTube because of their many tips and design ideas that any homeowner will appreciate, especially when they're about minor repairs that anyone can tackle in the right direction.
FIX IT
Are you a visual learner? Do you want simple and to-the-point explanations of multiple home improvement topics? Do you mind that the camera work is not all that great if the tips are pretty good? Then the FIX IT channel has everything you need. As the name implies, this channel focuses more on short tutorials that go straight to the repairs and how to do them without dabbing too much in filler content. From changing your lawnmower air filter to repairing a two-piece toilet, DIY enthusiasts and homeowners alike will love to learn the basics of home repairs.
House Improvements
You won't find many small projects in this channel, focusing instead on some more complicated jobs like hanging drywall, but still explained in a beginner-friendly way, and with over 125 videos on DIY projects, you'll be sure to learn a thing or two in no time. Like many other channels featured in this article, the great thing about this HouseImprovements is that its host may not have the flashy in-your-face sort of charisma that TV hosts usually have, presenting a more down-to-earth attitude that doesn't make a lot of fuss about the things they're teaching you to do. "So you learned how to hammer a nail in place? Good for you, in the next lesson." It's refreshingly simple.
All these home renovations YouTube channels will show you very similar stuff, but sometimes the best way to learn one thing is to look at it from different perspectives until you find one that suits you better. This Old House's Bob Vila might have had opened the gates of home improvement television back in the late 80s, but these folks bring their knowledge straight to your house 24/7.